Viola graduate student joins world-class Saint Paul Chamber Orchestra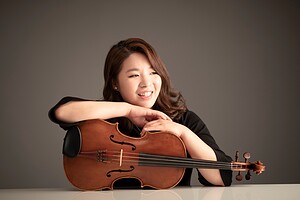 18 May 2023
Lisa Sung '23 GD may have started unexpectedly as a violist, but her achievements on the instrument — including an upcoming role with the Saint Paul Chamber Orchestra — are no accident.
Lisa, who grew up in Australia, began playing the piano at age two and the violin a year later. She was soon recognized as a child prodigy, winning local competitions and performing for the Australian prime minister and live on radio in Sydney by age 11.
However, as she prepared to attend a private high school on a music scholarship, she learned that she had to play two instruments to qualify. Lisa's violin instructor encouraged her to learn the viola for her audition and then return her focus to the violin once admitted — only the school assigned her to the viola in the orchestra.
Hesitant at first, she slowly began to fall in love with the instrument. "I was drawn to the timbre," she says. "The color of the sound is very warm and gives me comfort."
Again, Lisa quickly gained recognition, performing a concerto solo with her school orchestra at the Sydney Opera House and winning state competitions in Australia as a violist. She then went on to earn her bachelor's and master's degrees with Paul Neubauer and Cynthia Phelps at the Juilliard School and had the opportunity to sub regularly and tour with the New York Philharmonic.
Lisa had her sights set on a permanent role with the Saint Paul Chamber Orchestra and as she was finishing her master's degree at Juilliard, she auditioned for the ensemble. In February 2020 she won the initial audition, which consisted of multiple screened rounds, and was one of three candidates offered a two-week trial. Lisa's trial period was set to end with a performance with the orchestra and a solo recital on March 13, 2020 — just as the Covid-19 pandemic began to sweep the U.S.
"The night before my recital, the country shut down," Lisa says. "My trial was postponed indefinitely."
Lisa eventually returned home to Australia, where she spent a year teaching private lessons, tutoring for the Sydney Youth Orchestra and at multiple private schools, and subbing for the Australian Chamber Orchestra. Although she enjoyed being back home, she began to feel disconnected from her life in the U.S. and decided to apply to the Graduate Diploma program at New England Conservatory.
Studying with viola professor Kim Kashkashian was "life-changing," says Lisa. "She took my playing to another level. I'm very grateful for her guidance and her unwavering confidence in me as a musician."
In spring 2022, two years after her original audition, Lisa had the opportunity to complete her trial with the SPCO. She and Daniel Orsen '18 MM were both chosen to join, and Lisa will start her role in September 2023 upon completion of her degree at NEC.
In the meantime, Lisa kept busy with finishing her Graduate Diploma and subbing with the Boston Symphony Orchestra. This summer, she will join the BSO for part of the Tanglewood festival and on their European Tour, with stops in France, Germany, Slovenia, Switzerland, and England.
While performing with large orchestras as a regular substitute musician has been exciting, Lisa is looking forward to being part of a world-class ensemble that is small in size in an intimate setting that gives an opportunity for each musician to have more direct input in artistic ideas.
"Joining the Saint Paul Chamber Orchestra is a real dream come true as they have unique programming with many opportunities for chamber music as well as performing symphonies unconducted and solo," says Lisa. "I'm particularly excited to collaborate with violist Tabea Zimmerman, who is an artistic partner with the SPCO. Working alongside such incredible musicians will be a truly rewarding and inspiring experience, and I am so excited to contribute my love and passion for chamber music and orchestra to this dream ensemble."